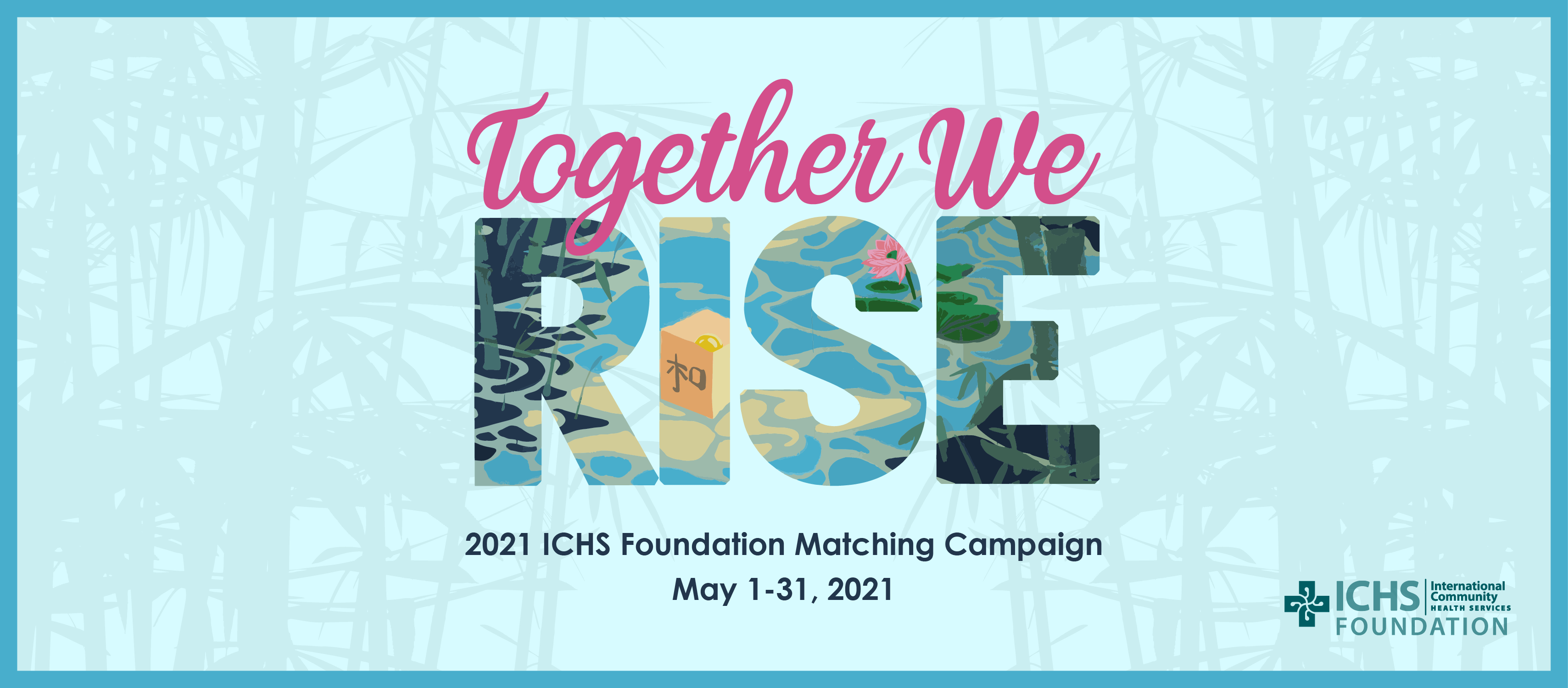 International Community Health Services (ICHS) Foundation's spring fundraiser will be hosted online during the whole month of May 2021. This year's theme is Together We Rise.
We believe everyone deserves access to quality health care. ICHS provides culturally and linguistically appropriate health and wellness services and promotes health equity for all. ICHS serves as a safety net for vulnerable individuals and families in our community.
That's why we provide over $1,000,000 annually in charity care, free and low-cost health services for patients who otherwise would not be able to afford them. Financial contributions from generous donors like YOU make this possible.
Every dollar raised in the month of May will be matched up to $150,000 by our generous corporate sponsors and ICHS and ICHS Foundation board of directors.
Will you help us reach our goal of $300,000 by May 31st?
Questions? Please contact Tagoipah Mathno.
Design background: The "Together We Rise" logo/theme was inspired by the murals painted in the ICHS International District Medical & Dental Clinic courtyard. The background in the word "rise" was one of a four-part mural series titled, "No Mud, No Lotus. No Justice, No Peace" by local artists Jude Jing Dai, Miles YungSahm Miller and Shea Dailey.
The concept of the mural arose from one of the foundational teachings, "The Four Noble Truths," of the Mahayana lineage of Buddhism. When suffering is honestly addressed rather than covered up and ignored, we can be in touch with our suffering and eventually transform it.
The lotus flower is called beautiful, mud called ugly, but in actuality they are codependent. Without the rich and fertile mud, there can be no healthy lotus.
Similarly, when there is no justice for the ongoing injustices against BIPOC communities, there is no true peace. The first step toward healing is to acknowledge this. We are all interconnected and need one another to walk a path towards peace.
---