ICHS COVID-19 virtual summit equips youth with information to be health ambassadors
October 8, 2021
Over 150 young people, ages 11 to 19, from throughout Washington state joined the International Community Health Services (ICHS) team and community health partners for the "COVID-19 Virtual Youth Summit To Build a Healthy Tomorrow," a multimedia event meant to educate and empower youth and dispel myths about the coronavirus and vaccines.
The ICHS virtual event was presented by Comcast and co-sponsored by the Association of Asian Pacific Community Health Organizations (AAPCHO) and the City of Redmond. ICHS also partnered with Asian Pacific Islander Coalition Advocating Together for Health (APICAT), Center for Multicultural Health, Gay City, Public Health — Seattle & King County, The MCUW Club: Minecraft at the University of Washington, echoX, and YouthKAN.
The diverse community partnerships helped to create welcoming space for the youth participants, who were 25% Asian, 25% white, 23% Black, 16% Hispanic/Latinx, 2% Middle Eastern, 1% Pacific Islander, 1% Alaskan Native, and 7% mixed race. A quarter of the youth participants were unvaccinated, and a third of the youth said they had family members who were hesitant about COVID-19 vaccines, according to an anonymous survey taken during the event.
When asked what the biggest barriers are preventing the youth and their families from getting vaccinated, the majority of survey participants attributed vaccine hesitancy to misinformation and fear of long term effects.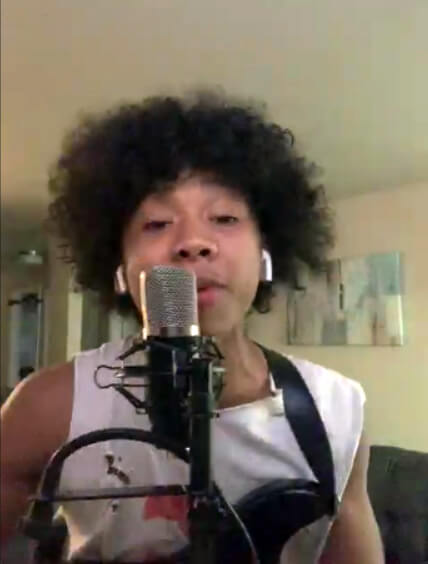 To address misinformation and language barriers, one youth shared her experience: "I got connected to a Vietnamese nurse through APICAT and had her talk to my mom about the effects and information of the COVID-19 vaccine."
The youth participants joined virtually at two Saturday morning events on Sept. 25 and Oct. 2 over Zoom, where they were welcomed by live punk rock performances by King Zaae, a 14-year-old musician from South Seattle.
Becky Reitzes, a Public Health — Seattle & King County public health educator, then fielded questions and concerns brought by the youth in attendance.
When the main question-and-answer section was completed, the youth participants split into smaller groups, led by youth leaders trained by Public Health, where they asked more questions and discussed their experiences during the pandemic. Those groups then became their teams for a series of minigames in Minecraft, a video game where people can build and explore worlds. The information on COVID-19 and vaccines were reinforced by educational maps and games created for the youth by the UW Minecraft club.

ICHS provided Minecraft accounts, $25 gift cards for the participants to buy lunch and prizes for teams who were successful in the games, which included parkour, a dropper quiz, creative building and a COVID-themed escape room. At the end of the event, youth were able to free-build, with some building structures to show the future they look forward to when the pandemic is over.
Heidi Wong | ICHS Foundation Executive Director

We hope that the youth who attended the summit can take what they've learned to their families and peers and become ambassadors for healthy communities. The youth's insight and passion for keeping their friends and families safe were a great inspiration for us all.
Youth questions help to clear misinformation and disinformation
While the Moderna and Johnson & Johnson vaccines are being used to vaccinate adults, the Food and Drug Administration (FDA) has only approved the Pfizer vaccine for people under 18, and it's the only vaccine that had full FDA approval at the time of the event.
Young people aged 16 and up were eligible for the Pfizer vaccine while it was still under the Emergency Use Authorization designation in Dec. 2020, and adolescents aged 12 to 15 got the go-ahead in May 2021.
The coronavirus is often less severe in young people, but they can still get it, spread it to others and become ill or require hospitalization, said Reitzes. Underlying conditions more prevalent in communities of color — often caused by environmental and personal circumstances stemming from racist policies, past and present — can cause the disease to hit harder and become more deadly.
Vaccination has been shown to prevent the disease, but the expectation of health experts is that it prevents severe disease and hospitalization, said Yuhani Aly, a youth peer who partnered with Reitzes for the presentation on Sept. 25.
Although variants like Delta, which is predominant in Washington state, are more contagious than the original strain, the vaccines remain highly effective, Reitzes said. Should new variants become vaccine resistant, scientists will have to develop new ones.
"What will happen is they will continue to create new vaccines like they do with the flu shot," Reitzes said, noting that the annual flu shot is meant to combat new variants of the seasonal flu. "We don't see that yet. We don't need that yet."
Then the pair set on debunking misinformation that has spread about the coronavirus and the vaccine. This misinformation is dangerous not only because it can deter people from getting vaccinated, but it has also caused people to look for alternative medications such as Ivermectin, a drug developed as a livestock dewormer that was later modified for use in humans.
Do vaccines create changes in menstrual cycles? Sometimes. Do they prevent pregnancy by disrupting your period? No. Is there a magnet inside? A microchip? Fetal tissue? Pork products? Eggs?
"Nope, nope, nope, nope, nope," Reitzes said.
It's critical to ICHS' mission and for public health, in general, to communicate good information about the coronavirus and vaccines to young people in settings where they are engaged and comfortable. Young people are not getting the vaccination at the rates that health professionals anticipated.
Seattle Public Schools have seen 343 confirmed cases of coronavirus, 296 of which were in students, according to the SPS COVID dashboard. Of those cases, the largest concentrations were in the district's Central, Southeast and Southwest districts.
"We hope that the youth who attended the summit can take what they've learned to their families and peers and become ambassadors for healthy communities," said ICHS Foundation executive director Heidi Wong. "The youth's insight and passion for keeping their friends and families safe were a great inspiration for us all."