Practice with purpose as a volunteer MD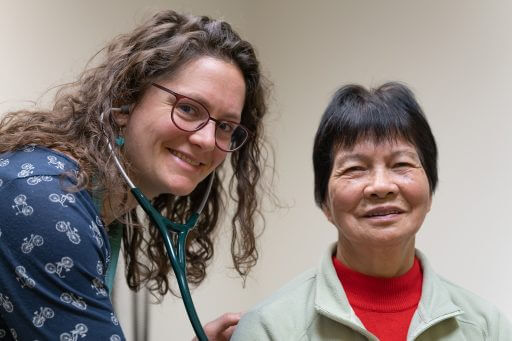 Become a volunteer MD with ICHS and discover the many ways you can make an impact – on people, communities and in creating greater health equity.
ICHS offers licensed MDs a way to connect with community-based health care, an award-winning mission-driven organization and committed colleagues. Contribute your expertise as part of a multidisciplinary team that includes interpretation, pharmacy, dentistry, nutrition, psychology, social work, health education, community advocacy and Chinese traditional medicine.
Your volunteer service includes opportunities to:
Choose a time and schedule that fits your capacity
Offer consultation to ICHS' medical care teams and patients
Serve throughout ICHS' four full-service clinic locations as needed
Capacity for MD volunteers is determined on an as-needed basis for all ICHS clinics. Please email us for more information on how to get started.
Be a volunteer
ICHS welcomes volunteers of all backgrounds. Underage volunteers with a signed parent consent are limited to certain types of volunteer positions. Whether you are available a few hours a week or a few hours a month, we can use your help with administrative duties, including data management, outreach, event planning and other projects.
Email us to learn more about our volunteer opportunities.
Join the patient advisory council
ICHS' patient advisory council is a diverse group of patients who meet regularly to advise ICHS on how it can provide better patient-centered care. We welcome your input and participation!
Contact us to learn more about joining the patient advisory council.
Serve on the ICHS board of directors
ICHS is led by dedicated community members who serve on its board of directors. The board oversees ICHS' strategic goals and guides the organization through key policy and strategic decisions. A unique attribute of the ICHS board is that over half of the members are "consumers." A consumer is anyone who is:
A patient who is currently using or has used ICHS as his or her primary source of health care services within the last two years; or
A legal guardian or immigration sponsor of a patient who uses ICHS as his or her primary source of health care services.
For more information on joining the ICHS board, please contact us.
Serve on the ICHS Foundation board of directors
The ICHS Foundation board of directors guides the Foundation's efforts to generate financial resources for charity care, build donor relationships and run ICHS capital improvements and expansion efforts. Click here to learn more.