ICHS looks back on 50 years of crisis and opportunity
November 21, 2023
By Ron Chew
Fifty years ago, several protests against construction of the Kingdome led to the resurrection of Seattle's dying Chinatown-International District (CID). They also led to the birth of a major social service agency that serves as the bedrock of support for needy immigrants and refugees and people of color through the region.
In 1968, King County voters approved bonds for a $40 million multi-purpose stadium. In 1972, the County Council voted to build the massive concrete structure on South King Street, along the western edge of Chinatown.
CID champions resisted. They said the Kingdome would precipitate closure of five hotels which were home to many longtime residents: the elderly Filipino bachelors and Chinese immigrant families who formed the backbone of the community. They had been living in squalid apartments, without access to vital services like health care.
For a full year, the community fought—in the courts and in the political arena—to halt the project. They didn't succeed. But the story didn't end there.

On Nov. 2, 1972, about 50 protesters—led by a canny organizer named Bob Santos—arrived at the groundbreaking ceremony for the Kingdome. They came to disrupt the festivities. The demonstrators included a small contingent of feisty Filipino seniors from the recently-established International Drop-In Center (IDIC).
They carried signs which read, "Don't Let the Dome Doom Chinatown," "HUMBOWS Not HOT DOGS," "Preserve the International District," and "Chinatown Is Not Only a Place to Eat. People Live There Too." They grabbed bullhorns. They chanted, "Down with the Dome!"
On Nov. 14, many of the same demonstrators—their numbers swelled to 140—marched from Hing Hay Park to the downtown office of the U.S. Department of Housing and Urban Development (HUD). They told officials that the ID urgently needed more units of low-income housing. They pleaded for action. The director of the Seattle office responded, "But we don't have any money right now."

The CID protesters weren't deterred. On Feb. 3, 1975, a group representing themselves as the Committee for Corrective Action in the International District marched to King County Executive John Spellman's office to present a list of demands, including stadium construction jobs for Asians, 1,000 units of low-income housing, a stadium user tax to support community projects, a senior center, and a health clinic.
Spellman wasn't in his office that day, but he did follow up on one of the demands. He asked a staff member to conduct an epidemiology study to look at the need for health care in the International District. It soon became clear that the need was urgent.

With matching grants from both King County and the City of Seattle, the ID health clinic was born on Nov. 3, 1975, in a one-room storefront at 416 Maynard Avenue South, just across the street from Hing Hay Park. Through several name changes, it's now known as International Community Health Services (ICHS).
The clinic had first started on Aug. 28, 1973 as the Asian Community Health Clinic, a once-a-week, all-volunteer operation on Beacon Hill.
Bob Santos helped find the ID clinic site, a former Filipino gambling club. He asked Joey Ing, a local architect, to redesign the space. Bruce Miyahara became the clinic's first director. Sister Heide Parreño, a young Catholic nun, worked as its first nurse practitioner. She had been providing health care to Filipino residents through IDIC and a Pioneer Square health care program.
"We took over the space, cleaned it up, hung blankets for exam area privacy and started the clinic," Miyahara said.
Bob Santos continued to work with neighborhood activists to improve the quality of life for residents, helping jumpstart Asian Counseling and Referral Service (ACRS), community parking, nutrition support, child care, and historic redevelopment.
Funding from HUD's Neighborhood Strategy Area Program helped restore seven historic buildings, including the Bush Hotel, which reopened in 1981 as a new community center, low-income apartments and home base for the Seattle Chinatown-International District Preservation and Development Authority (SCIDpda).

Sister Heide, Donnie Chin—founder of the International District Emergency Center, and volunteers like Jan Ko Fisher spent many hours visiting social clubs, pool halls and old hotels to cultivate the first generation of ICHS patients. The ID clinic became the lifeline for hundreds of residents who had been suffering from untreated diabetes, hypertension, arthritis, gout, and cancer.
Jon Nakagawara, president of the Asian Community Health Clinic's coordinating committee, succeeded Bruce Miyahara as ID clinic director in 1977. Gail Tanaka took the helm in 1980 as the demand for services exploded. Thousands of Southeast Asian refugees had resettled in King County following the end of the Vietnam War. The number of ICHS staff grew to 21. The agency served 800 to 900 patients per month and provided interpretation in 12 languages.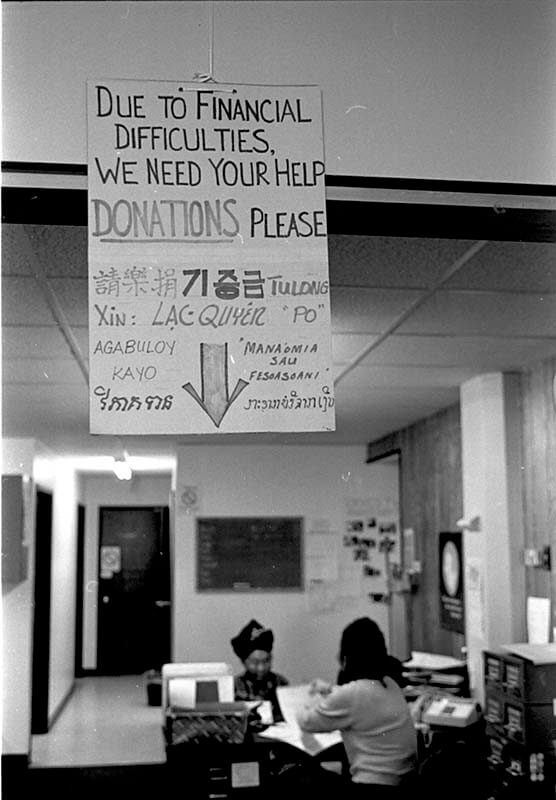 ICHS struggled as President Reagan took an ax to social service funding programs during the 1980s. ICHS' fourth director Frank Irigon, hired in 1988, fought valiantly to keep the agency afloat. Irigon had been an ardent proponent of the clinic during the Kingdome protests.
To alleviate the funding crisis, neighborhood clinics came together in 1992 to establish the Community Health Plan of Washington. The community-governed nonprofit health plan helped to coordinate care and advocate for people who were not being served by traditional insurance companies.
Dorothy Wong was hired as ICHS director in 1993. Under her tenure, ICHS' budget ballooned from $1.9 million to $15 million. Seven construction projects were undertaken. Traditional Chinese medicine and acupuncture were established in 1996. Dental services were added at ICHS' new Holly Park site in the mid-1990s and at the ID clinic, which moved to the ID Village Square in 1998.
In 2006, Teresita Batayola began a nearly 18-year stint at the helm. "We became more active in speaking out on the regional, state and national levels," Batayola recalled. "We moved beyond the CID, bringing our services to the doorsteps of other underserved populations outside Seattle."
Today, ICHS is certified as a Federally Qualified Health Center and is the largest provider of healthcare to Asians and Pacific Islanders in Washington state.
With passage of the Affordable Care Act—a huge step forward in health equity—ICHS began educating patients about available health coverage options. By the end of 2014, teams at ICHS had enrolled over 10,000 people in insurance plans. Medicaid-eligible patients began receiving high quality care under Apple Health.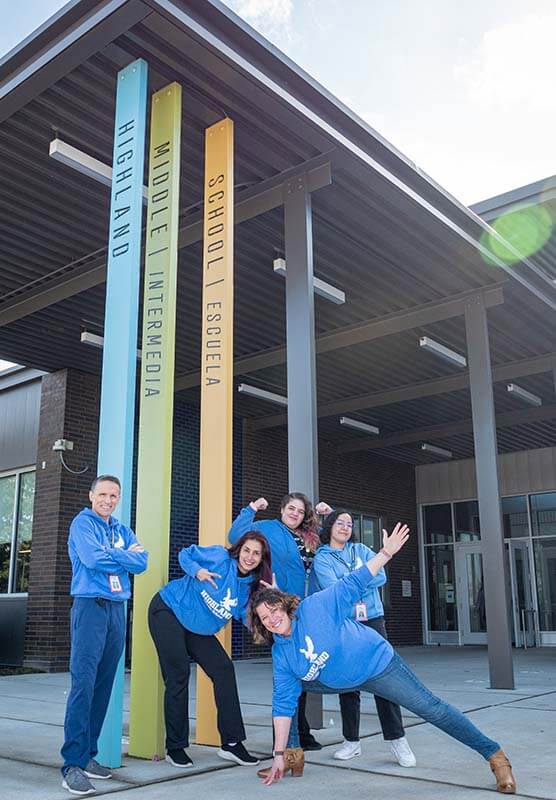 Under Batayola's tenure, ICHS built clinics in Bellevue and Shoreline, established a mobile dental clinic, opened two school-based health centers, and established a vision clinic. In more recent years, immigrants and refugees from East Africa, Eastern Europe, Central America, and Central Asia brought a unique set of cultural and language needs. They were suffering trauma from the impact of civil war and displacement. In 2011, ICHS partnered with ACRS to provide on-site medical care to those experiencing mental illness.
During the height of the 2020 pandemic, ICHS faced a new set of challenges, including a shortage of protective masks, gowns and medical supplies. ICHS partnered with other community groups to provide tests and vaccines and to push back against anti-Asian attacks.
In 2019, ICHS took a big leap into the realm of senior care by taking over stewardship of Legacy House, an assisted-living facility built next door to ICHS in 1998. The facility had been run by SCIDpda. Under ICHS, comprehensive wraparound services are now provided through an aging-in-place program called PACE, which stands for Program of All Inclusive Care for the Elderly.
Several years ago, Bruce Miyahara returned to help ICHS raise money for a community kitchen in the new 25,000-square-foot senior care facility scheduled to open on North Beacon Hill in late 2025. The facility will offer PACE services. SCIDpda is developing affordable apartment units at the same site.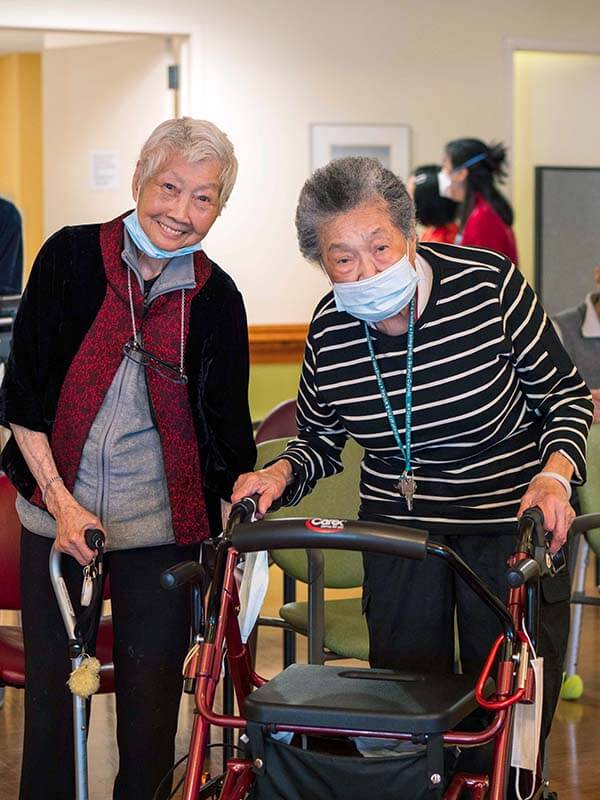 "We've come full circle," Miyahara said. "The nursing project that Sister Heide started targeted elderly patients with a combination of clinic and home visit services. The PACE program provides meal and nutrition services that support my generation, the baby boomers."
He's been joined by Mayumi Tsutakawa, a founding board member of ICHS. She is helping raise money to install art throughout the PACE program. The artists include Gerard Tsutakawa, Barbara Earl Thomas, Cecilia Alvarez, Dean Wong, Lawney Reyes, and Michelle Kumata.
Her mother, Ayame Tsutakawa, struggled with memory decline, spending the last three years of life at Keiro, the Japanese American nursing home which closed in 2019. "The atmosphere of loving care was enriched by the artwork of Asian Pacific artists that made her feel at home," Tsutakawa said. "It is so important for seniors to be spending time in places which stimulate and nourish the senses."
Batayola's successor, Kelli Nomura, joined ICHS in November 2022. Nomura is no stranger to either ICHS or Seattle. She served on the ICHS clinic board for more than a decade. Her mother's family once managed the American Hotel and the Publix, two historic hotels in CID. Her late father, a pediatrician and regional medical director at Kaiser Permanente, grew up on Beacon Hill.
Nomura, who has an extensive background in behavioral health, is excited to see the federal, state and local funds expected in the near future to support further integration of medical services with behavioral health. "ICHS will continue to expand and grow to meet the needs of our diverse communities," Nomura said.