Four Tips from a Certified Personal Trainer & Running Coach
Here's to taking care of your health, staying fit & joyfully celebrating the Year of the Rabbit! Let's take this 'HOPportunity' at the Lunar New Year 5k to keep your fitness a priority in 2023 with a professional!
Tip #1: GOAL SETTING
Seize the Hop-portunity: It's the Year of the Rabbit…so let's hop to it & set some goals! If you're a beginner or just getting back into exercising, finishing a 5K may seem overwhelming at first. Here are some tips to help you get started:
Start by setting a realistic goal. Decide for yourself: will you walk or run? A mix of both? Will you train with and complete the event with friends? Will this be a fun multi-generational family event for all? Whatever you decide, make it YOUR goal!
Attainable, progressive goals are important: If you've never run or exercised before, a single mile can be a reaching goal. Use time as a goal instead. Can you run for 5 minutes? Then walk for 10? Your first few days of movement can be a set of repeated 1 minute jog/runs followed by a 2-3 minute walk/rest. This is known as interval training. Gently increase the number of sets that you do or increase the run and decrease the rest time. Next thing you know, you've hit 3.1 miles for a 5K!
Happy heart, Happy health: Before any type of exercise, follow guidance from your physician. If you have any medical issues or are unsure, see your doctor. Running is good for your heart and overall cardio system, but if you have an issue that prevents the system from working properly, address that first.
Keep your bunny ears standing tall: Be proud and stay strong. Know that deciding to do the event is already a huge step in the right direction. Celebrate the accomplishments, big or small…you've earned it!
Tip #2: RUNNING & FITNESS GEAR TIPS
It's time to pull the rabbit out of the hat! Let's talk about running gear. Unlike other sports, running is one where less is more! You can get out there and start without having to round up a lot of equipment.

Put Your Best Feet Forward: A good pair of shoes is important…whether you're running, exercising, walking or even for daily movement. Don't just purchase what's on sale, but instead, find what's most comfortable for you. Fitness shoes are an investment and will ensure you can do what you like to do…longer! If you get a pair of shoes for exercising…commit that pair for that purpose so they'll last longer. I have a pair that I specifically use for exercising indoors; another pair (or more!) for outdoor running; and another few for when I'm out and about town. If you have one pair for everything, you'll undoubtedly "wear them to the ground" in no time! We mentioned that less is more when it comes to running/exercising—start off with a pair just for that and grow in time with more.
Get the Support You Need: Visit local running stores as they can do a personalized analysis of your feet, recommend shoes based on what you're going to use them for, or even create customized insoles for your shoes.
Be PrepHAREd! Ok, Year of the Rabbits, always plan ahead before you leave the house. Check the weather and dress appropriately; know where you're going to run; plan out your route; have water in the car for after your run; if you listen to music, make sure your headphones are charged up.
Dress for Success: Know that you're going to warm up during your run or exercise. Always have an extra set of clothes and a towel in the car for when you're sweaty or if it's cold/rainy cold out…make sure you get out of those clothes ASAP!
Hop to Your Habits: On event day, don't wear anything that you haven't worn in your practice/training before! Race day is not a time to break in new shoes or clothing.




Now that you're geared up and ready…it's time for some fun "hare-obic" activity!

Tip #3: TRAINING & DOING IT

Stay HOP-timistic: It's time to go down the rabbit hole! You can do this! Keep your goals in mind and know you'll succeed in anything you put your mind to! Here's a few tips to help you stay hoppin' on the miles:
Warm It Up, Stretch It Out: Before any athletic activity or exercise, always be sure to warm up. Whether it's a light jog or jumping jacks, getting things moving not only helps to raise the body's base temperature, but sends signals to the brain that it's time for the body to move!
Turn Static, into Dynamic! There's a difference between "dynamic" and "static" stretching. The latter are the stretches where you stay in one position. Hold each stretch for about 30 seconds and do not "bob" while you hold each stretch. Instead, work on taking deep breaths in and out. However, the optimal type of stretch you should do are dynamic or active stretches, which put less strain on the muscle and are perfect for getting the body ready. With dynamic stretching, one moves into the stretching position or completes the stretch in continuous motion. Dynamic stretching for runners (and you can find more online!) include lunge walks, leg swings (front and back, side to side), skipping and knee raises.
Read the Road: Always practice safe miles! Keep your eyes, bunny ears and every sense on alert! Learn to read the road—look ahead, but also see what's on the ground around you, especially for tripping hazards like uneven sidewalks, branches, rocks etc. Don't have your music on so loud that you can't hear traffic, bikes or others who are passing you. If you're running at night, have a headlamp and wear bright clothes, especially if it has reflective surfaces on it. Always, safety comes first.
Win by more than a "hare": Running may become your thing, but to improve, work on strength training. Powering up your leg, arm and core muscles will make you a better runner. Cross training and participating in other activities will also prevent overtraining a specific part of your body, as well as prevent injury. Yoga, pilates, cycling, team sports and weight training are a great way to shake up the routine and add to your fitness regimen.

Listen to Your Body: Some days, you might not be feeling it. Not every exercise day is meant for setting personal records. If you're tired or if something hurts, be gentle and take it easy on yourself. Give yourself a pass for the day. When running, monitor your breathing—your heart and lungs are important. If something persists or doesn't feel right, see your doctor immediately.
Remember the reason for your run: your goals and celebrate how far you've progressed. Be proud of who you are and what your body can do. Before you know it, you're at the finish line!

Tip #4: RECOVERY TIPS
You've set goals, decked out in the right gear and worked hard…now it's time to treat your Year of that Rabbit 'fast and furriest' racing body to some well-deserved recovery!
Get Rest: How well we move is determined by how well we've rested. No matter what level of athlete you are, make sure you give yourself time to rest and recover. Your muscles might initially experience some soreness if you're not used to exercise, but know that it WILL get better! Be gentle on yourself and get rest!
Eat Well: A key part of how well we move, is also how well we eat. Make sure you're well-nourished before going out to exercise. Eat a balanced meal, be mindful of what you eat.
Stay hydrated: As a beginner and especially if you're walking your 5K, you might want to bring a small bottle of water with you. As you progress, 5K runners can function without water during the event. With any distances longer than a 5K, you will definitely need to carry some water. Make sure you drink enough water the day before…and always aim to stay hydrated!

Keep it Fun: First and foremost, always enjoy what you're doing! Exercise with a friend, challenge yourself (give yourself a check mark on your calendar when you get out, get up & move); get an exercise tracker and keep track of your pace, progress and accountability.
Slow and Steady Wins the Race: Remember this is YOUR time! Run or walk at YOUR speed. Don't mind the tortoise, you speedy hare…Doing the event your way is a good way to free the mind (and not try to meet the expectations of others or try to keep up!).
You've got this! Way to hop to taking care of your health, staying fit and joyfully celebrating the Year of the Rabbit! Finally, thanks for allowing me the HOP-portunity to provide you with running and fitness tips!
About Jackie Soo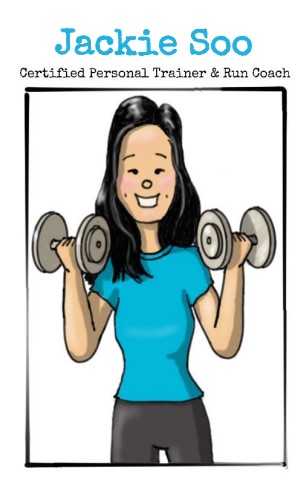 Jackie Soo is a Certified Personal Trainer (CPT) through the National Academy of Sports Medicine (NASM) with specializations in fitness for women, older adult clients, as well as high performance athletes. Soo is especially knowledgeable and experienced in post-injury reconditioning, strengthening, and corrective exercises.
Jackie also has a run coaching certification through the Road Runners Club of America (RRCA) with the expertise to train runners, particularly beginners, to safely achieve their goals. Jackie Soo was recently selected as one of 24 women across the United States to join Team Game Changers, a program sponsored by Brooks Running, which aims to bring more Women of Color as coaching experts and leaders in the run industry. Having worked in a variety of settings from big box gyms to in-home with private clients, Jackie has received high client satisfaction, results and positive accolades from those whom she's trained.
Born and raised in Calgary, Alberta, Jackie Soo has played over 25 years of competitive ice hockey, enjoys traveling, as well as continuously learn about the latest in the health and fitness industry.
ICHS 2023 Lunar New Year 5K
Thank you for registering for the ICHS Lunar New Year 5k! Every dollar from registrations will fund free and low-cost health care services for patients in our community.