ICHS is administering COVID-19 vaccines for individuals six months and older

We each have a responsibility to ensure that those around us are protected. We reduce COVID-19 transmission by being vaccinated and boosted, protecting ourselves, our loved ones, and our community.
Unvaccinated people aged 6 months and older are 2.7 times more likely to test positive and 5 times more likely to die from COVID-19 than those who are vaccinated with at least a primary series, according to the CDC. Unvaccinated people aged 5 years and older are 2.3 times more likely to test positive and 7 times more likely to die from COVID-19 compared to people vaccinated with a primary series and 1+ booster dose.
Dr. Lakshmi Deepa Yerram, ICHS chief medical officer, emphasizes the importance of vaccinating our youngest children against COVID-19. She also advocates that everyone who is eligible (ages 5+) get the updated bivalent booster.
What to expect
COVID-19 vaccines are free of charge, regardless of immigration or health insurance status.

Please bring your ID and insurance card if you have health insurance. Also bring your CDC vaccination record card if you are receiving your second or booster vaccine. You will be given vaccine safety information when you arrive. After you receive your vaccine, ICHS staff will observe you for 15 minutes. If you have a history of allergies or allergic reactions, we will observe you for 30 minutes.
COVID-19 vaccines offered at ICHS
Pfizer COVID-19 bivalent (Omicron) boosters for people ages 5 and older
Pfizer COVID-19 primary series vaccines for people ages six months and older
Novavax COVID-19 vaccines for those 12 and older (only offered at ICHS Shoreline clinic)
ICHS does NOT offer Moderna or Johnson & Johnson COVID-19 vaccines.
How to receive a COVID-19 vaccine at ICHS
ICHS patients and non-ICHS patients can walk in to clinic pharmacies at ICHS' International District, Holly Park and Shoreline clinics Monday through Friday from 9:00 am to 4:00 pm (availability based on limited supply). Pharmacies vaccinate individuals six months and older. Walk in vaccinations are not available at our Bellevue clinic at this time.

Do you want to complete paperwork at home? Click to view the pharmacy consent form: English | Chinese | Vietnamese
ICHS patients can receive COVID-19 vaccines during your appointment with an ICHS provider, or by scheduling a vaccination appointment in one of our clinics over the phone. Please note that scheduled appointments are only available for ICHS patients. Please call 206.788.3700 to make an appointment.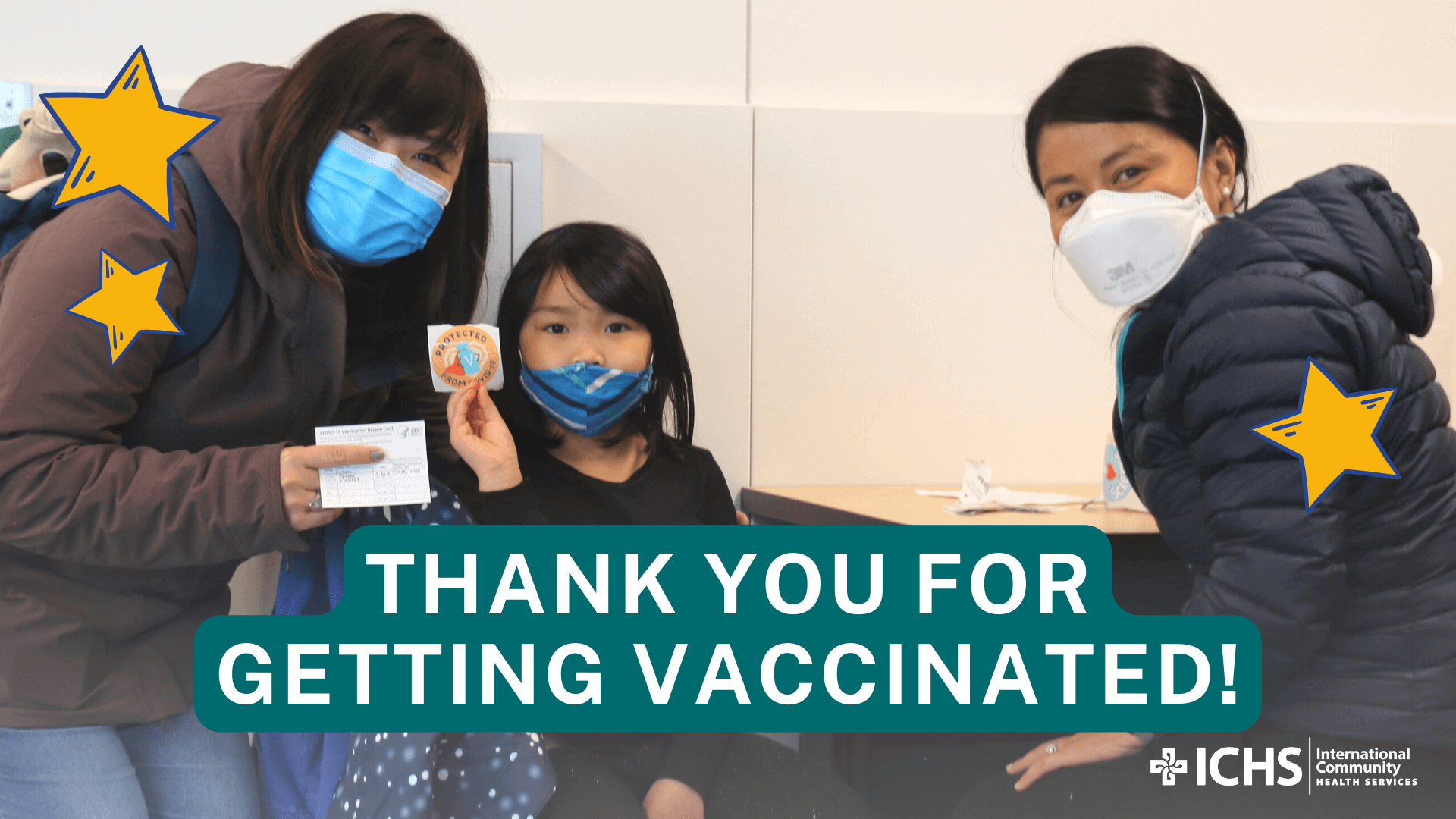 Second doses for primary series

Pfizer-BioNTech is a two-dose vaccine. It is very important that you receive your second dose in order to be fully vaccinated. ICHS will schedule your second dose after your first shot 21 days later at the same location.
Additional dose for immunocompromised
If you are moderately or severely immunocompromised (have a weakened immune system), you are at increased risk of severe COVID-19 illness and death. Additionally, your immune response to COVID-19 vaccination may not be as strong as in people who are not immunocompromised.
Use CDC's COVID-19 booster tool to learn if and when you can get boosters to stay up to date with your COVID-19 vaccines.
Everyone ages 5 and older should get a bivalent booster shot
You or your child got vaccinated with a primary series of a COVID-19 vaccine to protect yourself and others from severe illness, hospitalizations, and even death from COVID-19. Studies have shown that while COVID-19 vaccines remain effective, they are associated with a drop in protection over time.
Now, getting boosted remains the most effective way to continue this protection.
Check out the chart below to see if you or your child are eligible for one or more booster doses of a COVID-19 vaccine.*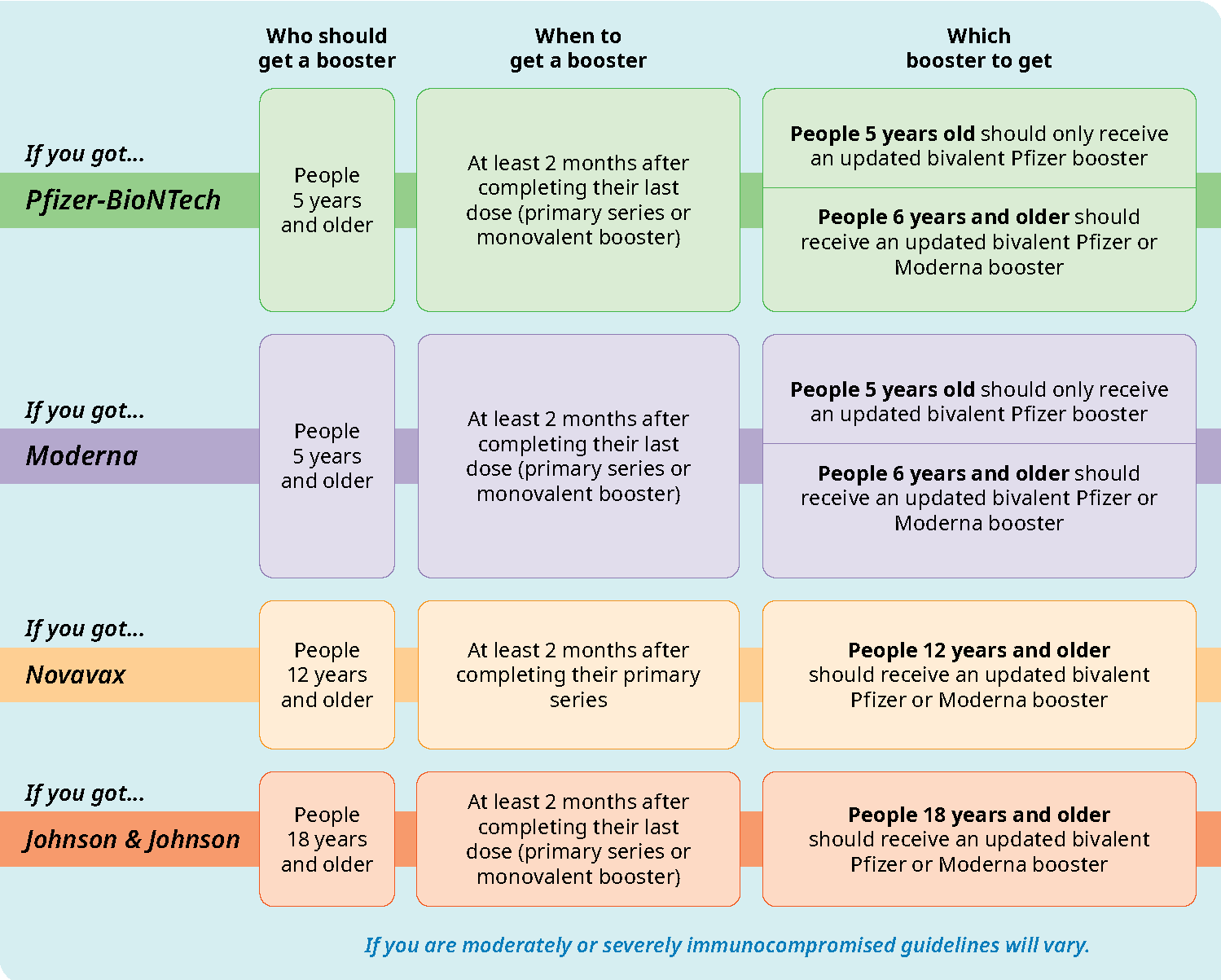 *People who recently had SARS-CoV-2 infection may consider delaying their COVID-19 primary or booster dose by 3 months from symptom onset or positive test (if infection was asymptomatic). Individual factors such as risk of COVID-19 severe disease, COVID-19 community level, or characteristics of the predominant SARSCoV-2 strain should be taken into account when determining whether to delay getting a booster dose after infection.
'Mixing and matching'
After reviewing vaccine safety and effectiveness data, the CDC has found that "mixing and matching" a different booster shot from your original vaccination is safe and effective. For example, someone who was vaccinated with Moderna may choose to get a Moderna, Pfizer, or Johnson & Johnson booster. ICHS administers Pfizer for booster shots. ICHS does not administer Moderna or Johnson & Johnson for booster doses.
ICHS is now administering Novavax COVID-19 vaccines at ICHS Shoreline pharmacy.
As a safe and effective vaccine, Novavax is authorized as a 2-dose primary series only for ages 12+. Not as a booster shot at this time.
For more information
Where to get a COVID-19 vaccine