Thank you for registering for the ICHS Lunar New Year 5k! Every dollar from registrations will fund free and low-cost health care services for patients in our community.
Below is some information for race day.
8:00 am-9:05 am

Same-day packet pick-up at Shoreline City Hall

8:20 am

Program begins at Aurora Rents
(Jackie Soo, certified personal trainer and run coach, will lead participants through a pre-race warm-up. The International Lion Dance Team will also perform.)

9:00 am

Race begins

9:30 am-11:00 am

Vaccine pop-up clinic at Aurora Rents parking lot
(Bivalent COVID-19 boosters for everyone 12+, supplies limited.)

10:00 am-11:30 am

Breakfast box pick-up at Shoreline City Hall
(Freshly made pancake, rice, ham, Portuguese sausage and eggs. Same-day breakfast purchases not available.)

11:30 am

Event ends
Free parking is available at the Shoreline City Hall lot, accessible on Midvale Avenue North, off of North 175th Street. Click here for directions.
In-person participants have two options:
Saturday, Feb. 25
10 am-12 pm

Super Jock 'n Jill, Greenlake
The first 200 to pick up their packets get an ICHS Foundation collapsible water bottle!

Sunday, Feb. 26
8 am-9:05 am
Virtual participants will receive their packet in the mail.
ICHS is offering Pfizer bivalent COVID-19 boosters for everyone ages 12 and older on a first come, first serve basis after the race. Look for our mobile clinic near the entrance of Aurora Rents parking lot from 9:30 am-11 am.
Supplies are limited. You do not need to be an ICHS patient to receive a bivalent booster.
Please bring:
ID
insurance card if you have health insurance
your COVID-19 vaccination card
Vaccinations only take minutes to administer. You will be asked to wait 15 minutes afterwards for observation by our medical team.
If you registered for the virtual 5k, find a time best for you on race day (Sunday, February 26, 2023). Your packet will be mailed to you.
Safety is our top priority
The Lunar New Year 5k will run rain or shine. During inclement weather or an emergency, our first priority is the safety and welfare of our event participants and staff. We recognize that canceling the Lunar New Year 5k is burdensome to participants who registered and paid with the expectation of a great event. We consider canceling the event to only come due to exceptional concerns of:
The safety and well-being of participants and staff
Severity of weather (unsafe path conditions, extreme snow, flooding, etc.)
The ability to drive safely
The condition of the course and event locations (downed power lines, etc.)
Making the Decision
ICHS determines when and if conditions warrant the closing of the event. This decision is made in collaboration with the City of Shoreline, Traffic Management contractor, American Medical Response, and event partner Aurora Rents. The National Weather Service will be the primary meteorological source to determine and declare weather conditions such as snow forecasts.
Notification about Cancelation
The decision will normally be made 24 hours before the event (i.e. 8 am on Saturday, Feb. 25, 2023 for the 2023 Lunar New Year 5k). This allows weather conditions to be monitored overnight to avoid an unnecessary cancelation. In the event of cancelation, participants, staff and volunteers can expect an email to registered email address. Cancelation information will also be shared on:
No Refund Policy
The Lunar New Year 5k does not offer refunds of entry fees. Participants will be notified of a later date they can pick up race T-shirts.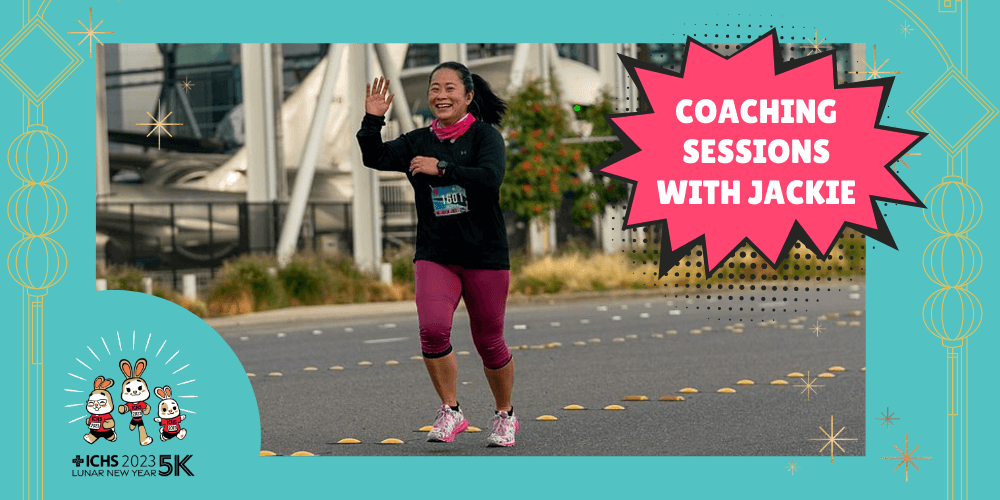 Four Tips from a Certified Personal Trainer & Running Coach
Jackie Soo is a Certified Personal Trainer (CPT) through the National Academy of Sports Medicine (NASM) with specializations in fitness for women, older adult clients, as well as high performance athletes. Soo is especially knowledgeable and experienced in post-injury reconditioning, strengthening, and corrective exercises.
We are pleased to share Jackie Soo will be leading our warm-up activities at the Lunar New Year 5k!
And to get YOU warmed up for the event, check out her "Chat with the Coach" tips at the link below!

5K Best Pet Costume Contest
Show us photos of your best-dressed pets!
Post and tag us with
#ICHSLNY5k
on our Facebook event page.
The winner will be announced on Monday the 27th and will receive a special prize.