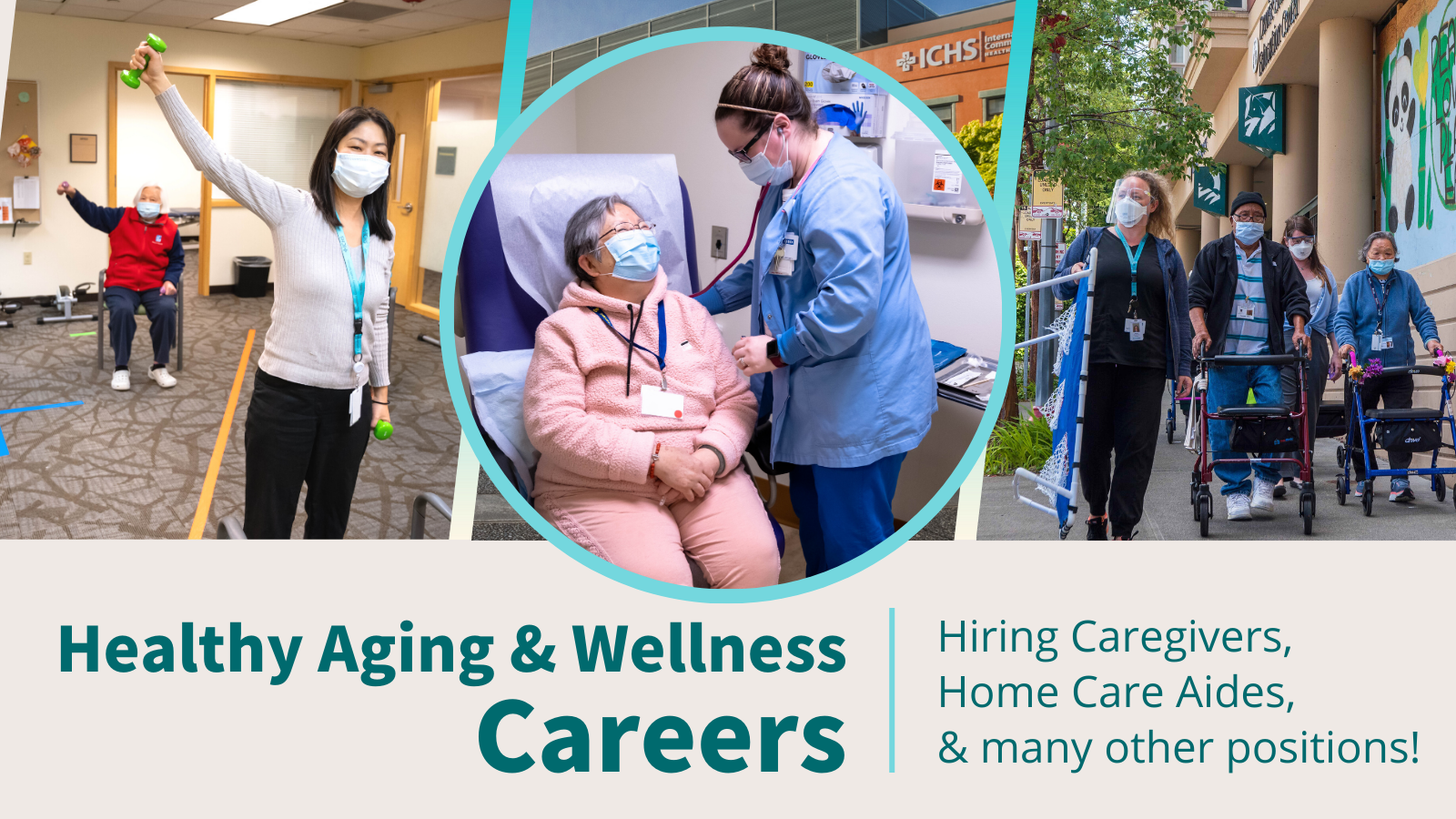 Join a growing, vibrant team providing healthy aging and wellness programs for King County's elders
International Community Health Services (ICHS) is non-profit federally-qualified community health center that offers affordable, skillful, and culturally sensitive health services for patients of all ages in over 70 languages.

ICHS' Healthy Aging and Wellness Programs are based in Seattle's Chinatown-International District and provide a continuum of care to support seniors to live independent and fulfilling lives in their community.

Now Hiring:
Personal Care Assistants
Join as a Resident Services Assistant working with and assisting seniors who are functionally, physically, and or socially impaired and need 24-hour oversight. This role assists residents with those activities of daily living that they are unable to perform without help, fostering at all times residents' independence and freedom of choice.
Join as a Program Assistant providing support to day center programs and senior participants. Responsibilities include running activities, assisting participants with basic personal care, and supporting seniors in achieving their care plan goals.
Location: At Legacy House in a collaborative team environment.
Join as a Home Care Aide on an interdisciplinary team. Provide home care support for ICHS PACE participants and help ensure the Plan of Care home care task developed by the PACE Interdisciplinary Team is being followed.

Location: At participants' homes

Pay: $19.00 - $27.82


Interpreter
Join as a Health Assistant - PACE providing interpretation services for PACE staff and PACE participants including providers, rehab team, pharmacy, behavioral health, nutrition, enrollment, social work, home care and other staff as needed.

Location: At Legacy House in a collaborative team environment
Pay: $21.70 - $31.77

Physical Therapist
**Eligible for a $5,000 sign-on bonus**
Join as a Physical Therapist on an interdisciplinary team. Evaluate senior program participants, administer physical therapy treatments, record progress and instruct participants and/or family in their care. In addition, a Physical Therapist Assistant position is now open.

Location: At Legacy House and at participants' homes
Pay: $39.35 - $57.61
Driver
Join as a Driver on a dynamic small team. Transport participants in a safe and timely manner, as well as meals, durable medical equipment, pharmacy, and any other transportation as deemed necessary.

Location: Based at Legacy House
Pay: $19.00 - $27.82


Social Worker
Join as a Social Worker on a dynamic small team. The Social Worker plans, organizes, and implements social work services for PACE participants and families.

Location: Based at Legacy House
Pay: $28.30 - $41.43

Registered Nurse
Join as a Registered Nurse - HAWP providing skilled nursing services, assessments and medication management for Healthy Aging and Wellness Program clients and residents.

Location: PACE Clinic at Legacy House and at participants' homes
Pay: $39.35 - $57.61

And many other positions!

Elder care for the Asian Community
The majority of ICHS healthy aging and wellness residents, patients, and program participants are Cantonese, Mandarin, and Toisanese-speaking elderly Asian Americans. Our dedicated and knowledgeable staff speak 15 Asian languages and dialects and provide culturally sensitive care.
If you are passionate about caring for seniors, we are always looking for health equity advocates to join our team!
Brite's Story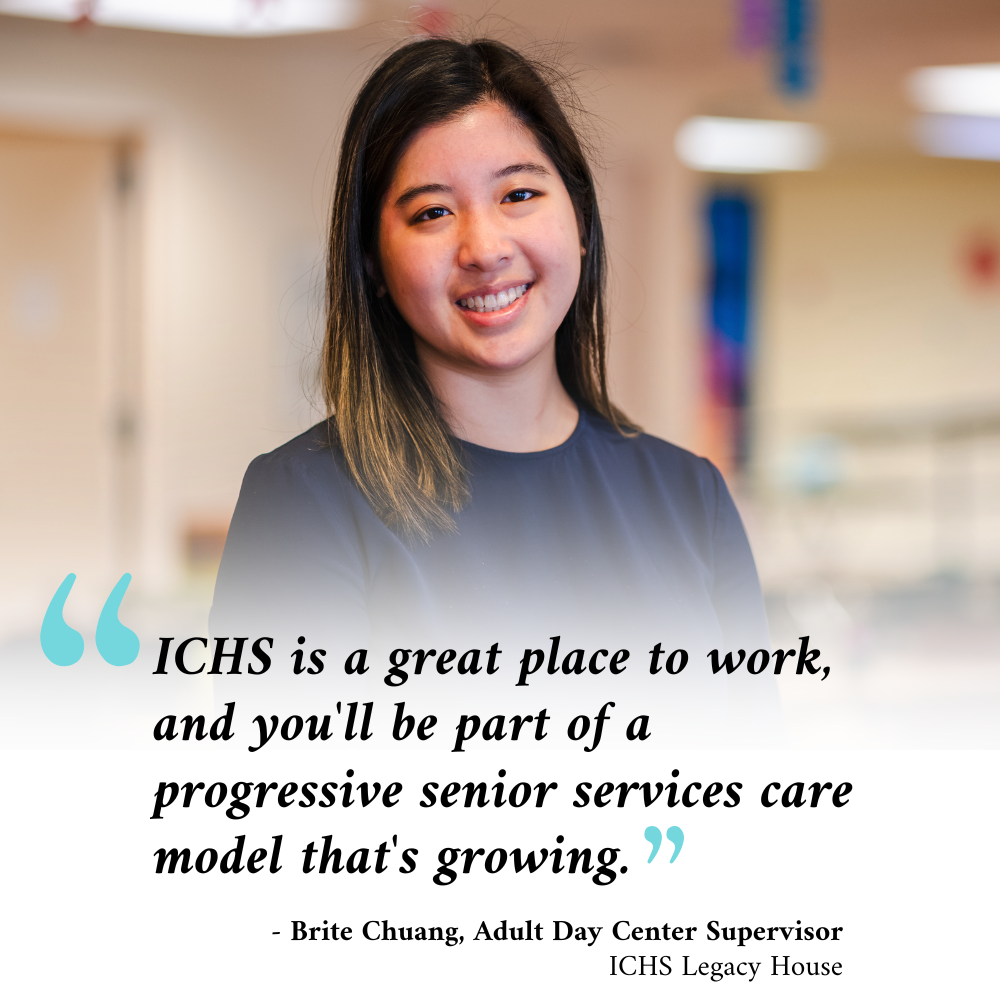 Morning light streams through the windows at Legacy House. Music is echoing across the main floor. In the gathering hall, thirty Adult Day Service participants are doing their morning exercises. In an adjacent room, Legacy House residents are engrossed in an arts and craft activity. The smell of lunch is in the air, as the kitchen staff prepare fresh lunches. Drivers are picking up boxed meals to be delivered to homebound seniors living in Seattle's Chinatown-International District, and the PACE medical team members are greeting their next patient for their medical check-up in the room down hall. In short, its bustling and the day has only begun.

"Its never boring at Legacy House," says Brite Chuang, ICHS Adult Day Center Supervisor.

Brite graduated college from the East Coast with a degree in pathobiology and began her career working in a lab. She quickly realized how much she enjoyed interacting with people, providing direct care.
She transitioned to work as a hospital admin and then served as a mental health counselor. But she wanted a team-environment - somewhere her values aligned with the organization.

At ICHS, Brite has thrived.
She joined ICHS in 2019, managing the daily operations including the Program Assistant team that runs day center programming and care for Adult Day Services and Program for All Inclusive Care for the Elderly (PACE) participants at Legacy House. Throughout the pandemic, they've had to adapt to ensure participants are safe and supported.
"I really like my team. I love our patients. I feel like we are really dedicated to the mission of serving our patients."

Brite feels proud seeing the seniors thrive in the program. "We help bridge the gap in healthcare," says Brite. As older people age they face health challenges. These compound for elderly Asian American immigrants with language and technological barriers. But at ICHS "we are willing to learn about our patients, their unique needs, and work with each of those patients."
At the end of the day, Brite reflects upon how supported she has felt in her role. Something that makes her job feel special.

"You'll never be alone. You're working in a team at all times. You always have support from teammates to talk to and problem solve."
If you'd like to give your career a boost in fulfillment and advancement, connect with us today!
Job Opportunities
We are always looking for hardworking, caring and detail-oriented individuals to join ICHS at any of our greater Seattle area/King County clinics. Excellent communication skills and a positive, can-do attitude are a must.