Congratulations to ICHS family medicine residency graduates
June 30, 2023
On June 16, Julia Wang, MD and Aisling Zhao, MD graduated from International Community Health Services (ICHS) Family Medicine Residency program. The pair are the fifth cohort to complete the three-year residency at ICHS' International District Clinic.
Established in 2016 in partnership with Swedish Family Medicine Residency at Cherry Hill, the program trains the next generation of family medicine leaders in a community health care setting.
During their residency, Dr. Wang and Dr. Zhao worked closely alongside clinical staff as full spectrum family medicine providers, delivering culturally and linguistically competent care to ICHS patients of all ages and backgrounds.
"I feel really proud of them," said Dr. Hieu Pham, site director of ICHS' Family Medicine Residency and 2020 graduate of the program. They've grown as clinicians, but also grown as health equity advocates, says Dr. Pham. "I really got to witness their journey through the past three years, and I've also learned a lot from both of them. They have taught us all so much about how to model compassionate patient-care in the clinic."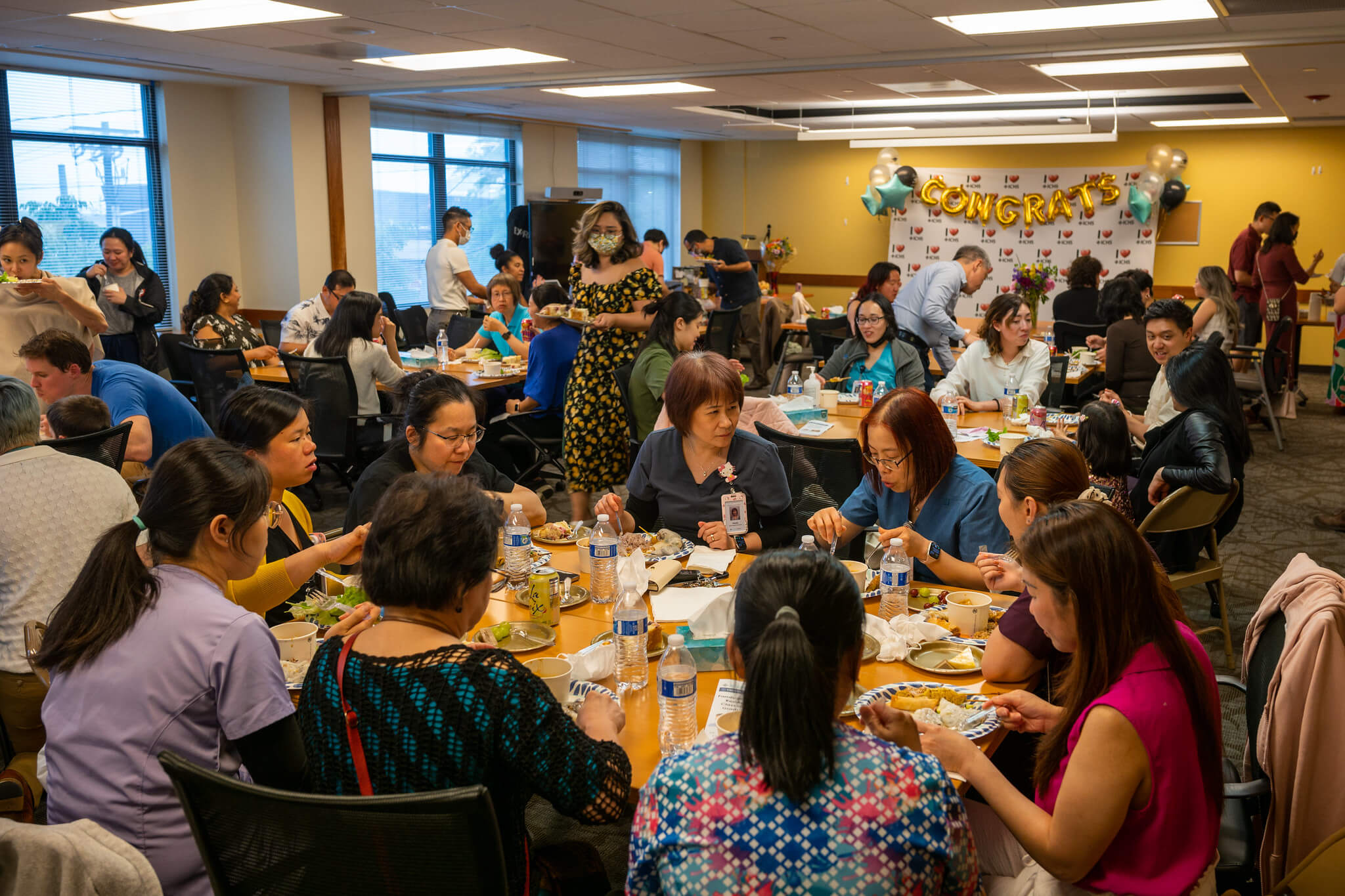 At the graduation ceremony, colleagues and friends shared stories of Dr. Wang and Dr. Zhao's impact upon their lives over the past three years. Preceptors and fellow residents spoke up, but also interpreters, behavioral health specialists, dietitians, nurses, and many other staff from across the organization shared stories - illustrating the kind of multidisciplinary team that Dr. Wang and Dr. Zhao was a part of.
Tina Nguyen, RN received the Donnie Chin Award, a program award given to a person each graduating class recognizes as having supported them in their growth and contributed to community care for the International District clinic. Uyenvy Pham, MD received the Best Preceptor Award.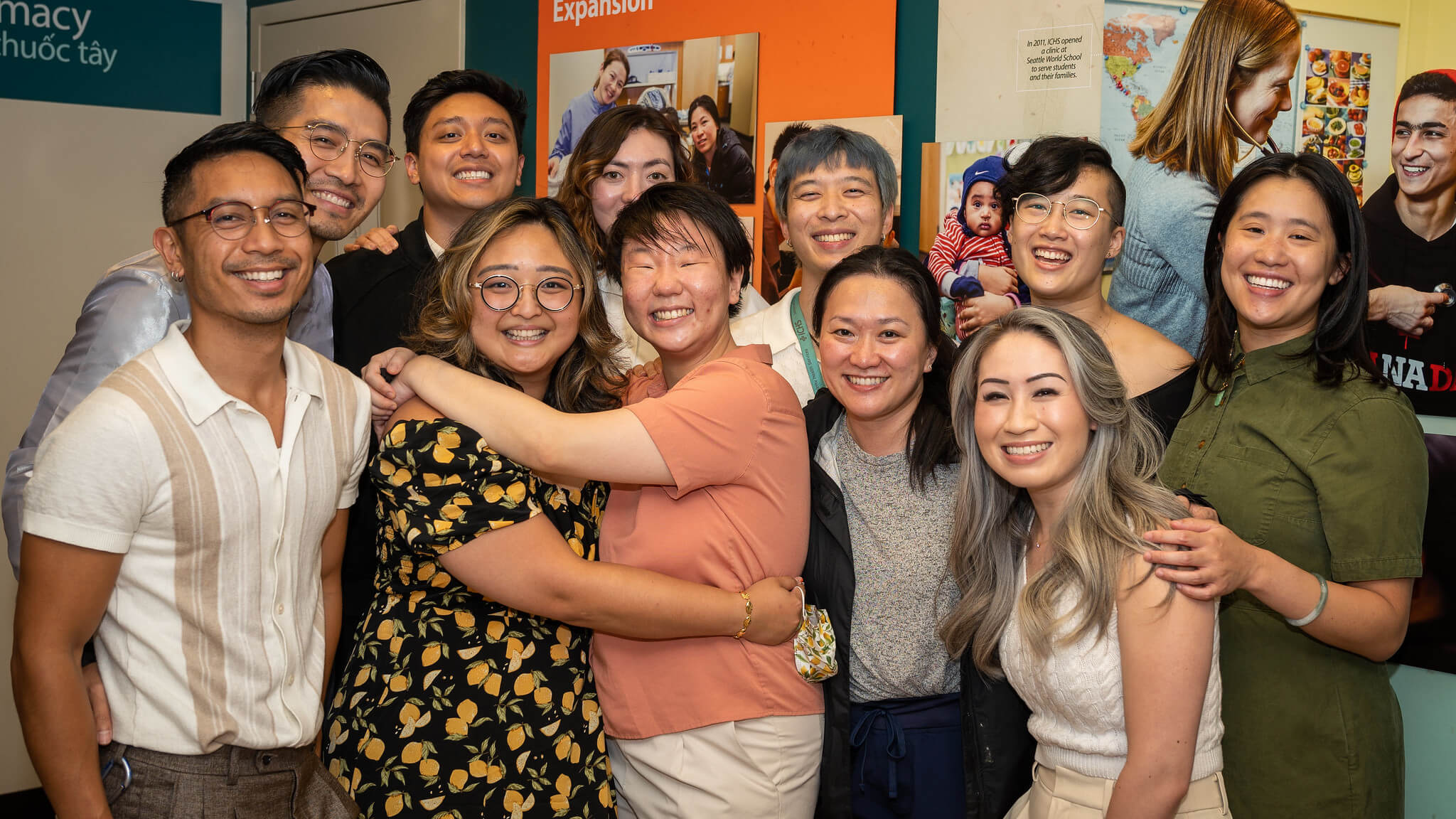 "A patient's first point of contact"
Deeply rooted in the Asian Pacific Islander community, ICHS provides high-quality, culturally and linguistically appropriate health services to immigrant and refugee communities in over 70 languages.
Family physicians are often a patient's first point of contact. They care for patients through all stages of life. They play a key role in overseeing preventative care, diagnosing new conditions, and managing chronic illness. They provide a continuity of care that is "instrumental in terms of trust in the medical system," says Dr. Pham.
The residents are taught the most up-to-date clinical knowledge by ICHS preceptors with decades of primary care experience. They practice team-based care and learn hands-on what is happening in medicine today, says Dr. Pham.
But it's not been a one way street. "It also challenges a provider group at the ID clinic, says Dr. Pham. "They inspire [all ICHS providers] to provide the most up-to-date here as well for all patients."
Residencies like the one at ICHS are important in ensuring there are enough qualified professionals to meet future needs. Research shows that medical providers who give patients culturally sensitive care — which respects a person's heritage and values — see improved patient outcomes. "Having a provider who actually looks like their patient population is instrumental in caring for patients, and [in building] patients' trust in the medical system."
The trust that Dr. Wang and Dr. Zhao have built is incredible, says Dr. Pham. "Oftentimes patients will say to us that only want to be seen by ICHS." Dr. Wang and Dr. Zhao did more than deliver care, they've been advocates for our patients' whole health and wellbeing, says Dr. Pham.
With the residency now concluded, Dr. Wang will be continuing her training through a Reproductive Healthcare and Advocacy fellowship at Tufts. Dr. Zhao is looking forward to joining the ICHS International District team full-time as a family medicine physician in a few months.
Six out of ten of the alumni of the Family Medicine Residency Program have remained with ICHS as primary care providers.
ICHS hosts a family nurse practitioner residency in addition to its family medicine residency. More information about ICHS' family medicine residency program can be found here.
~ Check out a full gallery of photos from the graduation ceremony here.