ICHS health advocate Veronica Kim named 2018 Molina Community Champion
August 24, 2018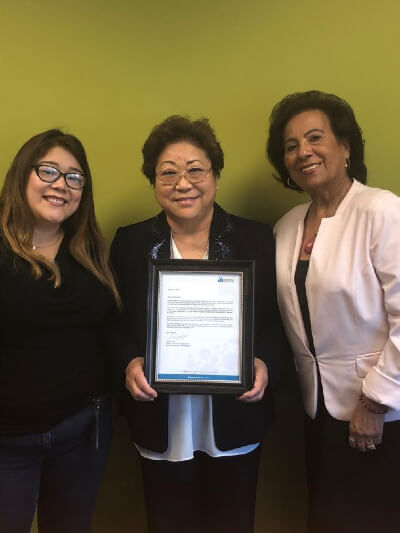 On Sept. 27, Molina Healthcare of Washington Inc., honored Veronica Kim, who served as women's preventive health services coordinator at International Community Health Services (ICHS) for 25 years, with the prestigious Community Champion Award. The award recognizes Kim's long-time contributions to level health disparities in breast, ovarian, cervical and colon cancer fatality rates among Asian Pacific Islander (API) and minority women.
As part of the award, Kim generously named ICHS the recipient of a $1,000 gift from Molina.
Kim recently retired from ICHS in August, to pass the torch to an up-and-coming generation of health workers. Her impact upon King County's women of color, and in particular the Asian American community, has been immeasurable. Her work formed the backbone of ICHS' Breast and Cervical Cancer Health Program (BCCHP), which connected nearly 2,600 low income people with life-saving screenings and treatment in 2017. Kim also brought the Swedish Cancer Institute's Mobile Mammography Program to ICHS in 2007 after discovering many women were not making it to their mammogram referrals. Bringing the mobile mammogram clinic onsite to ICHS locations reduced a number of challenges for immigrant and low income women, giving help with scheduling, and reducing transportation and language barriers.
"There is no appropriate value that can be assigned to Veronica's work within the community," said Teresita Batayola, ICHS president and CEO. "When women and their families are scared and uncertain, unsure of where to turn or whom to trust, she is the breast health expert, and social and health service resource, and pillar of Seattle's broader Asian American community."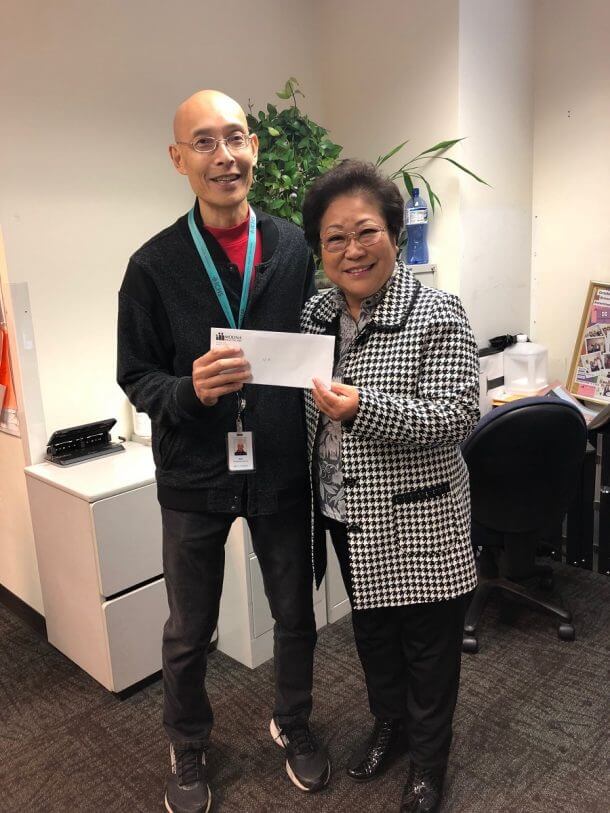 Kim was an early pioneer in addressing minority health within Seattle's Chinatown-International District, starting her career as a family health worker for ICHS in 1993, when the regional health center was still a small clinic in Seattle's Chinatown-International District. When the Centers for Disease Control and Prevention offered funding for a program to increase breast cancer screenings for API immigrant women, Veronica was tasked with enrollment – knocking on doors to make home visits, going to churches and community organizations, and patiently waiting at neighborhood venues and businesses to talk to women.
"Many health education materials did not exist in languages other than English in those early years," said Rana Amini, ICHS health advocacy manager. "Veronica created a library of resources from scratch so the women portrayed in pamphlets reflected the age and ethnicity of her target audiences. She ensured the availability of translation, interpretation and accurate information to empower ICHS patients to make informed, life-saving decisions about their health."
Veronica also established in-language health fairs for the Korean, Vietnamese and Chinese-speaking communities – bringing health services directly to people within their communities, at no cost. She enrolled women in health insurance and programs for those that could not afford it.
Her work also became deeply personal. When she became a cancer patient and survivor herself, she became even more aware of the challenges faced by those she had served.

Veronica Kim, former ICHS employee & 2018 recipient of the Molina Community Champion Award

My own experience with breast cancer treatment inspired me to give the best case management possible. I have been through every step, so I know what our patients are thinking and feeling.
"Veronica inspires us all to do better," said Ron Chew, ICHS foundation director. "I know very few people who are as optimistic and compassionate as she is. She has a warm smile and kind words to offer those around her."
Veronica has also been an annual participant and major organizer of ICHS' fundraising team for the Susan G. Komen Puget Sound Race for the Cure. For more than 15 years, she inspired a high level of participation among ICHS staff.
"Veronica put her heart and soul into building our women's program," said Batayola. "She's changed some women's lives forever. Because of her, Susan G. Komen has funded us close to 20 years, and continued to fund ICHS' breast health program beyond their normal five-year cycle. She is one-of-a-kind and I hope she continues to walk with us at Race for the Cure."
Veronica says she doesn't plan to leave all of her commitments behind.
"I feel blessed to have had the opportunity to work with such a wonderful, dedicated and amazing group of people for the past 25 years. During my tenure at ICHS I have learned so much. ICHS will always be a special place for me," said Kim. "I'm excited about what's ahead and plan to spend some time traveling. I leave soon for a trip to Korea and Hawaii. But even after retirement I will continue to advocate for and work with women."