ICHS receives King County funds to expand youth led behavioral health services
March 24, 2023
International Community Health Services (ICHS) has been awarded funds by King County and Ballmer Group to expand ICHS' school based health centers' (SBHC) culturally responsive mental health services.
The funds will launch a new youth program to dispel stigma around mental health and engage student leaders in promoting healthy behaviors. At the intersection of health and education, SBHCs are well positioned to reach and help students.
"ICHS is thrilled about this opportunity which will allow us to implement a youth-led, strength-based program for mental health promotion and prevention of adverse outcomes such as suicide, violence, bullying, and substance use, in partnership with Eastside Youth Coalition and Neighborhood House," said Kelli Nomura, ICHS CEO. "By centering youth in the program design and implementation, this program will be provided in a way that is responsive to their lived experiences and needs. Through this work we will be able to expand our ability to impact the behavioral health of more students, beyond our current SBHC patient population. Concurrently, we will assess access and engagement with our healthcare services, both quantitatively and qualitatively, using data to inform our ongoing equity and inclusion efforts."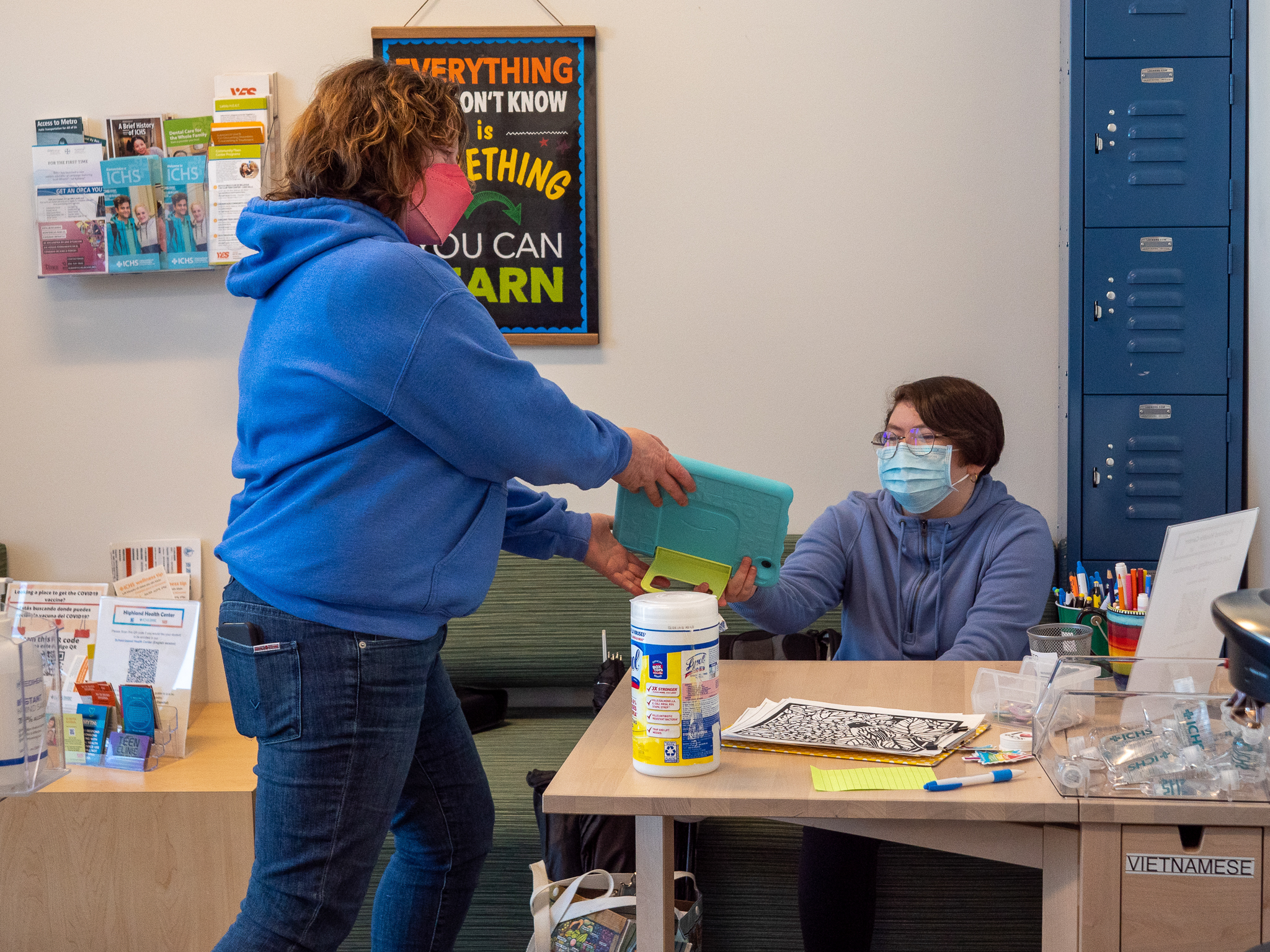 Sarah Burdell, LMCH, SUDP, ICHS Behavioral Health Specialist welcomes in a middle-school age patient who arrived for their appointment at the Highland Middle School Health Center. By working closely with the school, the health center team can offer student patients opportunities to receive their mental health support in a trusted, safe space.
ICHS' Seattle World School Teen Health Center in Seattle's Capitol Hill is offered in partnership with Neighborhood House. ICHS' Highland Middle School Health Center in Bellevue's crossroads neighborhood is offered in partnership with Youth Eastside Services.
In the 2021-22 school year, ICHS' SBHC provided services to more than 440 students who sought medical and mental health services that resulted in over 3,600 visits. SBHCs serve patients with onsite medical care, dental care, and behavioral health services to students, as well as health insurance enrollment, health and wellness services, and other community resources.
"We've seen great evidence for how school-based health centers can lead to better outcomes for young people — in school and beyond," said Dr. Faisal Khan, director of Public Health — Seattle & King County. "By enhancing mental health services, we're continuing to meet the needs of this generation. I'm grateful for the community organizations that have stepped forward to offer these services."