Rep. Adam Smith visits ICHS Holly Park clinic, commemorated as 'Community Health Advocate'
August 31, 2022
On August 26, International Community Health Services (ICHS) leaders welcomed Representative Adam Smith (WA-9) to ICHS Holly Park Medical & Dental Clinic located in the Seattle neighborhood of Othello.
"Community health centers make immeasurable contributions to our nation's public health and throughout the COVID-19 pandemic." said Rep. Adam Smith. "These organizations have shown just how valuable they are by connecting marginalized communities to quality, affordable, and equitable health care services. I'm grateful to International Community Health Services – and all the community health centers here in Washington's Ninth and across the country – for their work during this incredibly challenging time."
Rep. Smith has visited ICHS numerous times before and has met with ICHS leadership to discuss pressing challenges facing community health service providers. A total of nine ICHS locations are in his district. However this visit was his first tour of the ICHS Holly Park clinic.
Located on the second floor of a large mixed-use development block near the Othello town center, by patient volume the Holly Park clinic is ICHS' second largest clinic site. In 2021 they provided services to over 8,100 patients in dozens of different languages.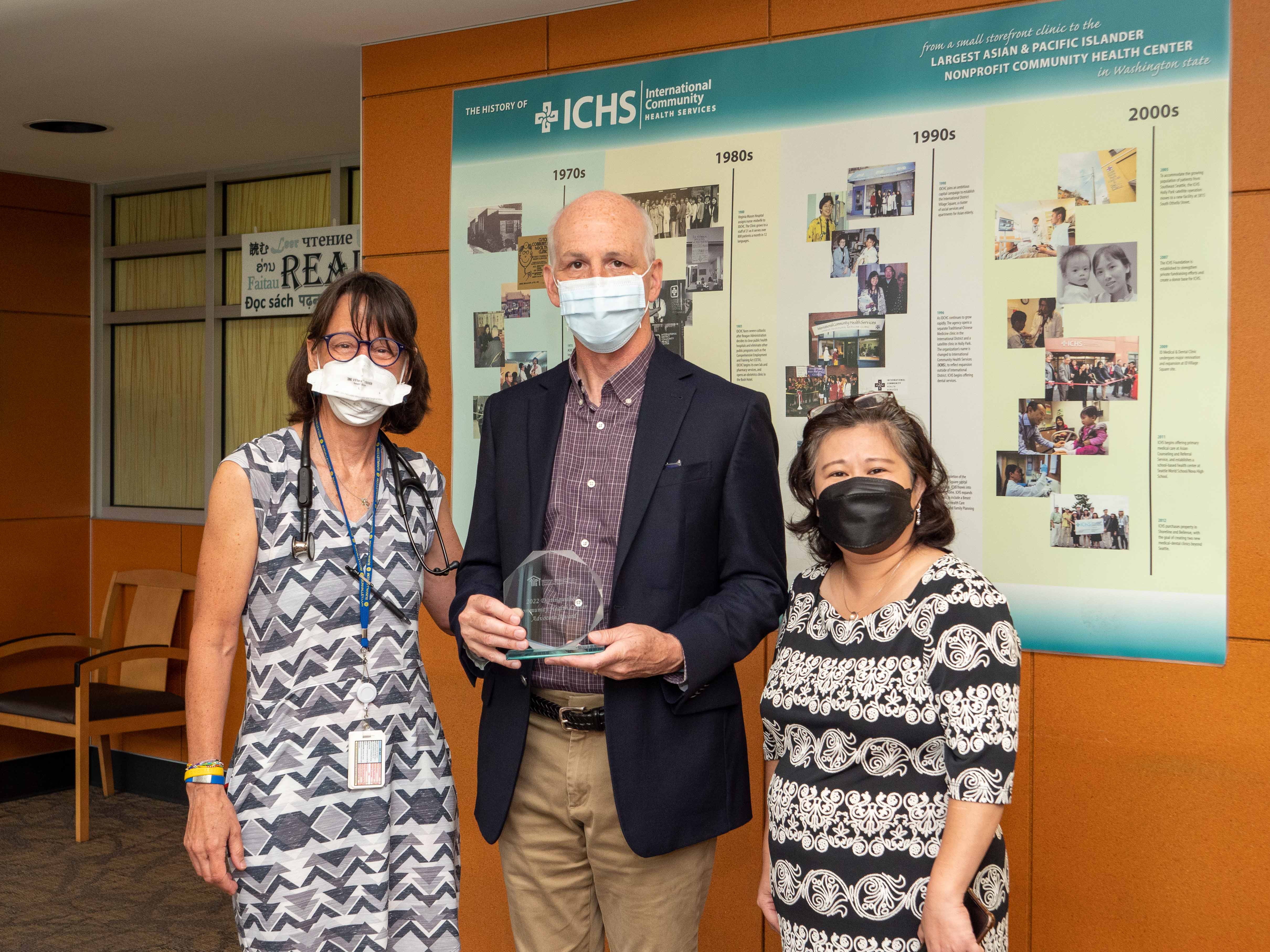 When Rep. Smith arrived, the waiting room was bustling with families with school-aged children waiting for well-child check-ups and back-to-school vaccines. Walking through, visitors could hear conversations in Vietnamese, Somali, Amharic, and many other languages, reflecting just a fraction of the diverse patients that the clinic serves.
High-quality, health services such as primary care, dental care, as well as WIC/nutrition services, and behavioral health services are all offered at the Holly Park clinic. The clinic has been operating in its present location since 2005 however, and the patient volume has grown substantially over the years. This growth has led to "growing pains" as Dr. Weitsenteiner puts it, of completely full patient schedules. This has led to the difficult decision for ICHS to decide between temporarily not taking new patients, or splitting services between locations to maximize space.
Dr. Beth Weitensteiner, ICHS Associate Chief Medical Officer and family medicine doctor at ICHS Holly Park, presented Rep. Smith with the National Association of Community Health Centers' 2022 Distinguished Community Health Advocate Award. Dr. Weitensteiner commemorated him for his staunch support of community health centers and for ICHS' patients.
"I am honored to receive the 2022 Distinguished Community Health Advocate Award from the Nation Association of Community Health Centers," Rep. Smith said. "I will continue to be an advocate for these organizations so that they are equipped with the resources they need to build upon their life-saving work."