Seattle World School 10th Anniversary
January 24, 2022
Transforming the Health & Wellbeing of Those Who Need It the Most
The International Community Health Services Seattle World School Teen Health Center is celebrating a decade of service to the students in our community who need it the most -- newly arrived young people from all over the world.
Because of the Teen Health Center, middle and high school age immigrant and refugee students have had access to high quality primary health services, dental care, mental health services, immunizations and preventive care. The Health Center has also been instrumental in connecting students' families with the school and with community resources, helping to improve student and family outcomes overall.
The Beginning: Seattle Public Schools Launches Secondary Bilingual Orientation Center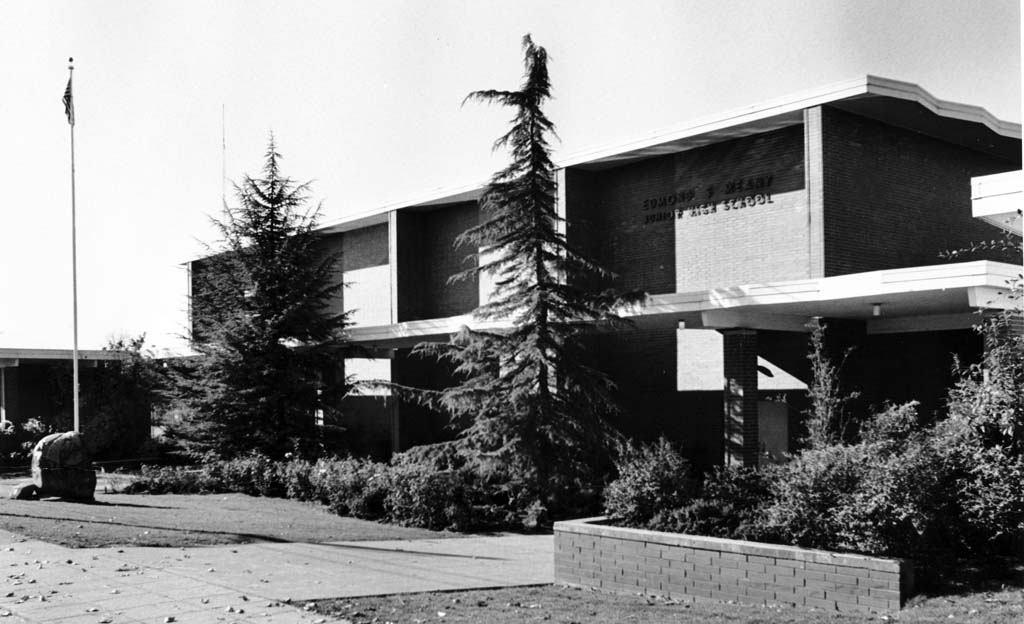 This region has a history of welcoming thousands of new immigrants and refugees, many of whom have been middle and high school age students who arrive in Seattle from all over the world, often with enormously challenging language, health, and education needs.
To serve these young people effectively and prepare them to enter Seattle's middle and high schools, Seattle Public Schools launched the Secondary Bilingual Orientation Center (SBOC) in 1980. The students learned English and academic skills to help prepare them to transition to a local school.
While the SBOC represented a giant step forward in enabling students to succeed in school and in life, it was not enough. It was clear that these students needed more than just a transition step to learn to navigate their lives in a new country and culture.
Establishing a Seattle High School for Immigrants & Refugees: A New Model
In 2009, SBOC relocated from Queen Anne to Meany Middle School on Capitol Hill. At that time, Seattle Public Schools and Friends of SBOC engaged many community leaders and organizations to collaboratively design a new model for an innovative high school that would replace the orientation center.
The premise: This new school would be a model designed with a full-service approach that included tailored instruction, with cultural competence at its core, wrap around services, and community connections to be responsive to diverse student and family needs, beliefs, values and experiences.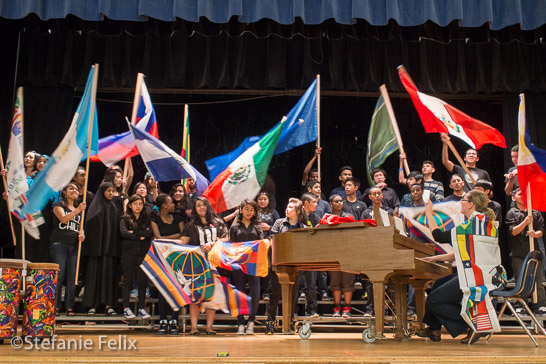 Students continued to arrive from all over the world and many had missed years of formal education. Ninety percent of these students lived at or below the poverty line. A high percentage came from war-torn countries or suffered from other childhood trauma. Many had never seen a health provider, were unvaccinated, uninsured, and their families had no idea even how to make an appointment with a healthcare provider. Not surprisingly, some of the most evident health and education disparities were, and are still, found with these students.
All these students and families speak another language. In fact, more than 30 different languages are represented. Few speak English. Most need interpreters to help communicate until they become English proficient.
School-Based Health Centers: Addressing a Critical Unmet Need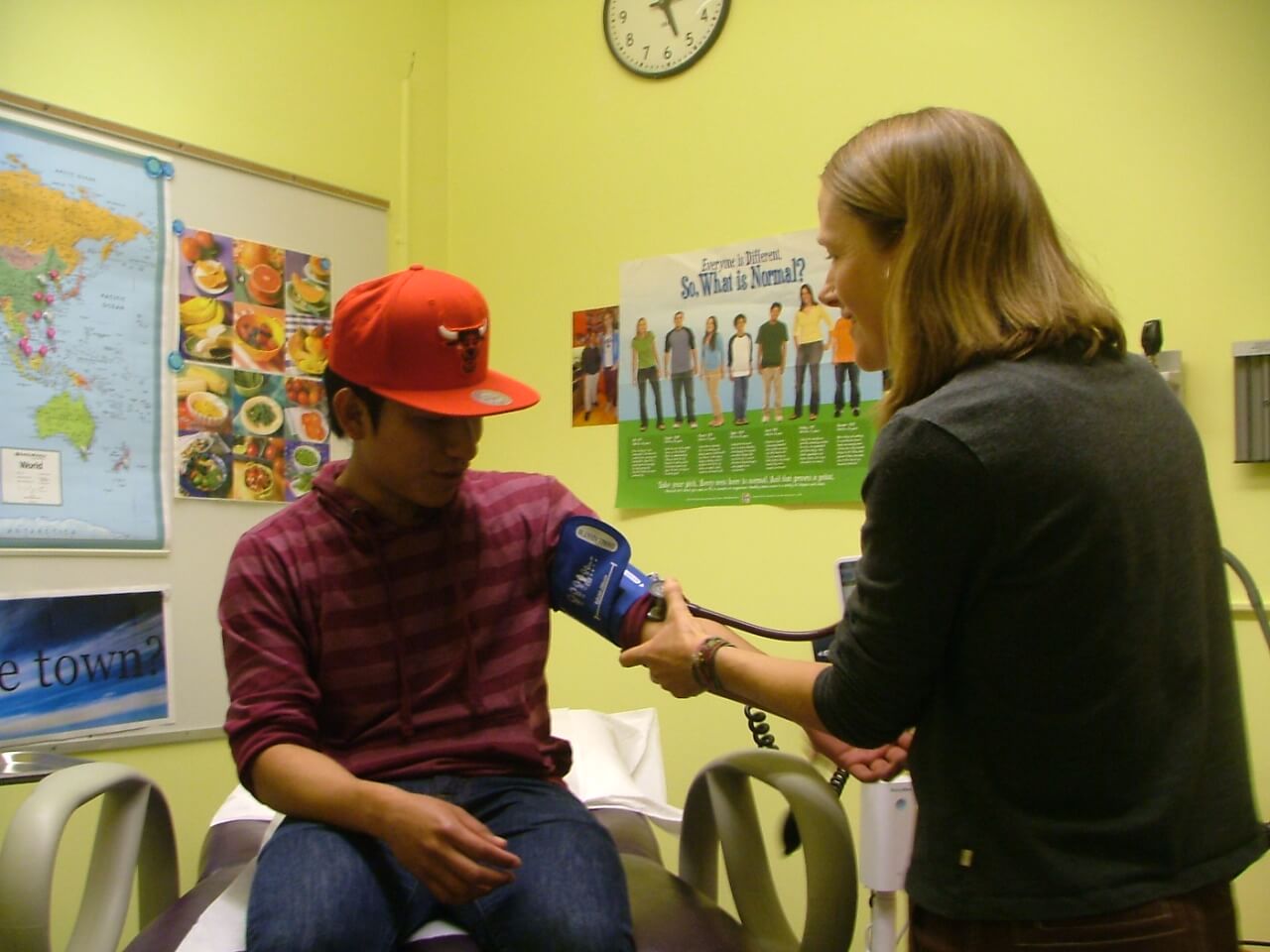 School-based Health Centers (SBHCs) work in partnership with the school, school nurse, and a health provider. At the intersection of health and education, School-based Health Centers are best positioned to reach underserved populations by bringing health care to where students are – geographically and culturally.
SBHCs are the most effective for students from low socio-economic status who face the greatest barriers to access health care, precisely the student population at SBOC, which would become Seattle World School.
The Campaign
Visionary school nurse Helene Mansfield saw the depth and breadth of these students' unmet health needs. She saw that while all comprehensive Seattle Public Schools high schools had a School-Based Health Center (SBHC) onsite, this population of students with the highest needs did not. Helene was determined to change that.
In partnership with community activist Terri Johnston, they launched a campaign to establish a School Based Health Center (SBHC) for these students. They met with TJ Cosgrove at Seattle-King County Public Health, who immediately embraced the concept. Together, they advocated for change. They established a coalition of potential health providers, policymakers, education leaders, and other key stakeholders. They testified in numerous venues – including the Seattle City Council and Seattle School Board meetings – to garner widespread support for establishing a School Based Health Center for immigrant and refugee students.
The Establishment and Opening of the School-Based Health Center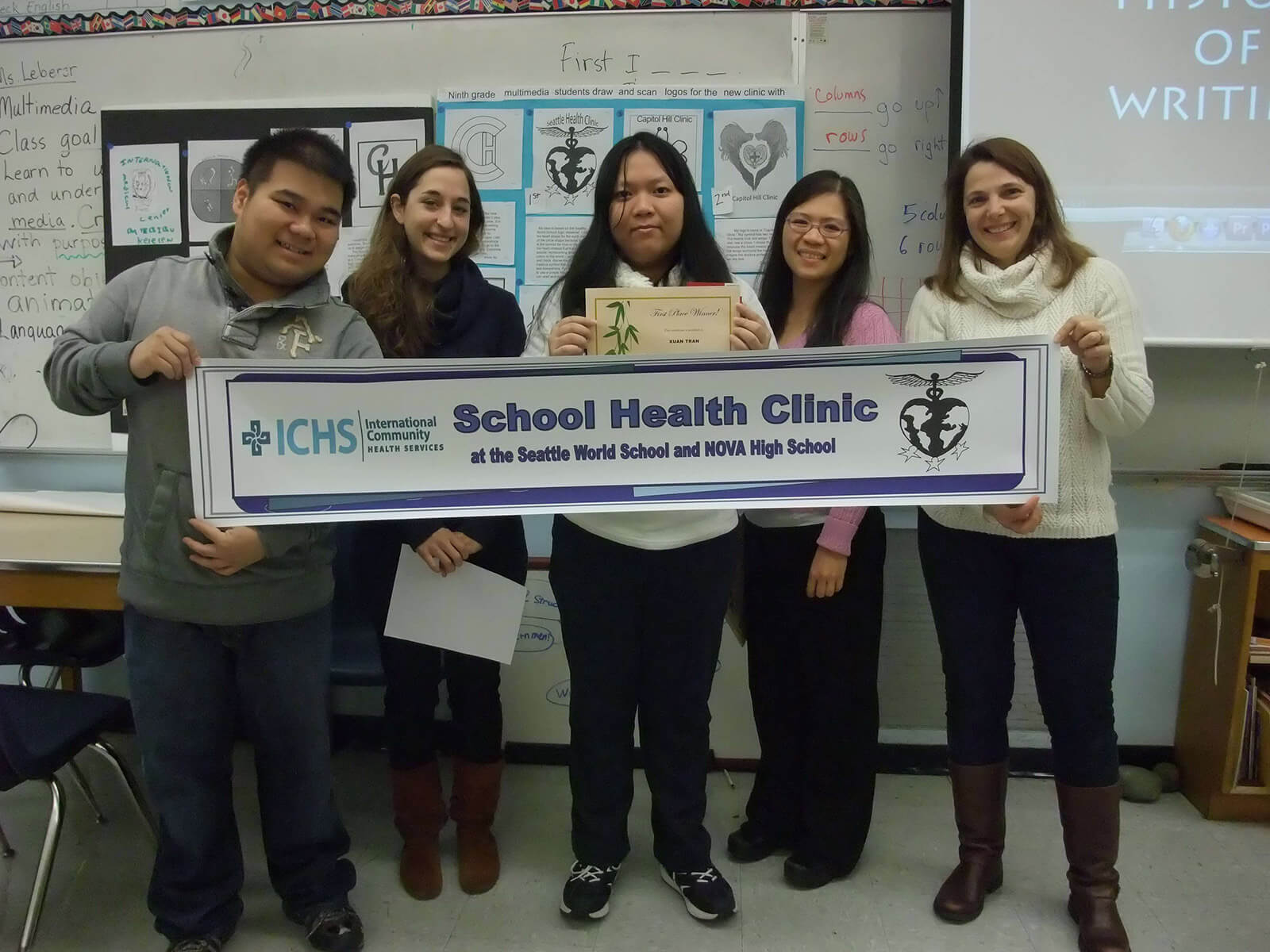 After two years of advocacy and with enormous support from Mayor McGinn's office and Councilman Tim Burgess, the Seattle City Council re-allocated Family and Education Levy (FEL) funds for operating costs to start a Health Center for SBOC. Unfortunately, space had not been built to deliver services.
A generous donor, Kathy Alvord Gerlich, stepped up to provide $60,000 to transform a classroom at Meany Middle School into a temporary Health Center. She also later funded portable dental equipment to get dental services kicked off.
ICHS was awarded the City contract to deliver services, and the Health Center launched at the beginning of 2011. ICHS served students at this "temporary" site for more than five years.
SBOC Becomes Seattle World School
After years of coalition building and planning, SBOC was transformed into Seattle World School -- an accredited high school with the ICHS Teen Health Center as a cornerstone of the new school model and building. In 2016, Seattle World School moved into its permanent home on Union Street – a newly remodeled school building.

Now, in 2021 as students continue to arrive almost daily in Seattle from around the world – generations of lives continue to be transformed because of Seattle World School and the ICHS School-based Health Center that has served students for a decade... and counting!
International Community Health Services would like to take this opportunity to thank our advocates who helped make the Seattle World School Teen Health Center possible.
Tim Burgess
TJ Cosgrove
Jerry DeGrieck
Kathy Alvord Gerlich
Terri Johnston
Helene Mansfield
Holly Miller
Sid Sidorowicz
Colin Walker
Seattle Public Schools & Neighborhood House for their ongoing partnership
and the residents of Seattle for continuing to support the Families, Education, Preschool, and Promise Levy that makes funding for School Based Health Centers in Seattle possible